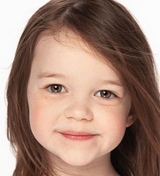 Happy Trails to Catherine Ashmore Bradley, who played her final performance of Harry Potter and the Cursed Child today! Look for an exciting announcement about her next project coming soon!
Happy Trails as well to Delaney Quinn and Scarlett Sher, who played their final performances of Waitress this weekend! We can't wait to see what's next for both of you!
Watch the newest members of the ALDC, including alum GiaNina Paolantonio (Matilda), perform their first ever group dance during the "Kids Tell All" special of "Dance Moms," as well as their group routine "The Chosen One"!
Tonight, kids from Frozen, A Bronx Tale, and more took part in the latest installment of (YOUNG)! Get more information HERE.
Jordan Cole (School of Rock) recorded a song for Noggin!
Check out the newest McDonald's commercial with Chinua Baraka Payne (The Lion King)!
See if you can spot Tyra Polke (A Christmas Story Live) in Kylie Cantrall's new music video!
And here are pictures and videos from the kids of Harry Potter and the Cursed Child, Waitress, The Rose Tattoo, and Radio City Christmas Spectacular!