FROZEN Dance/Audition Workshop + Q&A
June 11, 2020 @ 3:00 pm

-

4:30 pm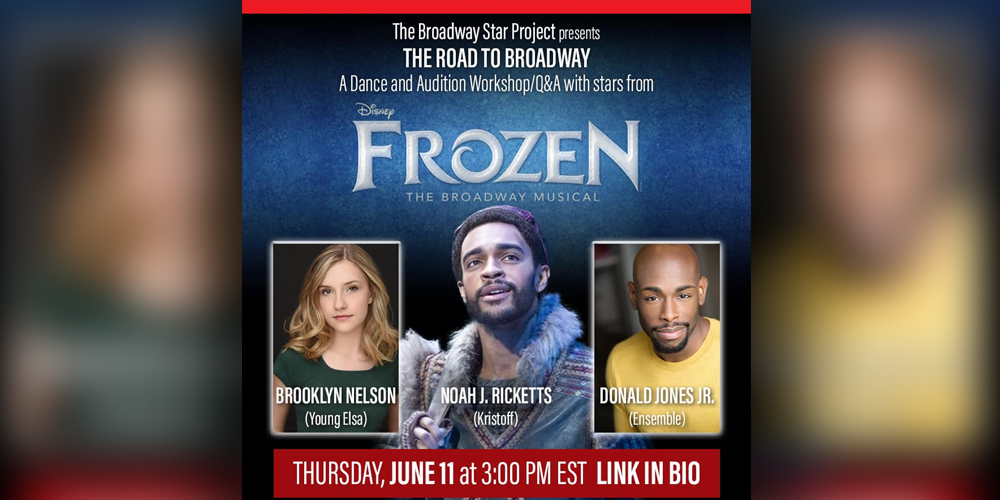 Join Broadway Star Project for a dance/audition workshop + Q&A with Frozen alum Brooklyn Nelson! 
We all love the amazing stories of how an actor lands a role in a Broadway show but, what if you could go with them through the audition process that granted them a role in a Broadway show?  
In the Road to Broadway series of workshops, you will recreate and live the steps that great performers went through to land a role in shows such as Hamilton, Matilda, School of Rock, Mean Girls, Wicked, Dear Evan Hansen, and The Lion King, to name a few.  
As soon as you sign up for one or more RTB workshops, you will receive professional audition materials to learn and practice. During the workshop, the artists will teach you the dance combination, perform their song cut for you, and answer your questions to complete your Broadway audition experience.
The tale of their journey is always as fascinating as it is inspiring. Every experience is different, and each one will motivate you to work harder on our skills to make your dreams come true.
The Road To Broadway is a great stepping stone on the path to your dreams, an exciting way to make new friends, meet Broadway pros, and, better yet, a fantastic way for them to meet you!
AT EVERY RTB WORKSHOP YOU WILL GET:
Audition sheet music from the show
Audition music track(s) played by a professional accompanist
Audition sides (when available)
60 minutes of dance instruction with a star from the Broadway show
30-minute Q&A session with two Broadway performers
A new group of friends and the chance to become part of the Broadway Star Project family