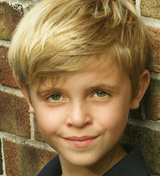 Jake Katzman (Kinky Boots) will guest star on "Kevin Can Wait"! The air date of his episode is TBA. Here he is on set:
Julian Elia (Billy Elliot) will join Canadian series "The Next Step" in 2017! Get more details:
Thanks to Shahadi Wright Joseph (Hairspray Live, School of Rock, The Lion King) for hanging out with YBAN's Lindsay! Catch her in Hairspray Live this December!
And here are pictures and videos from the kids of Hairspray Live, Waitress, Matilda, Radio City Christmas Spectacular, and School of Rock!