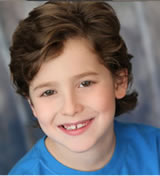 Check out this awesome article about Jonah Halperin (Matilda):
"Life-sized Christmas Treat In The Poconos"
Take a look at this article–an interview with
Douglas Baldeo
(
Kinky Boots
)!
"Douglas Baldeo"
Check out this recording of the kids and other cast members of
Matilda
(featuring
Beatrice Tulchin
) singing "Bring a Little Joy into the World" for the 2013 edition of Carols for a Cure!
According to Broadway.com, the new
Into the Woods
movie, featuring
Lilla Crawford
(
Annie
,
Billy Elliot
), had the biggest movie musical opening ever! Congratulations to Lilla and the rest of the cast! Check out the full article on
Broadway.com
.
Check out new pictures of K'Lynn Jackman (The Lion King) in the recording studio HERE!
And here are pictures from the kids of The Lion King, Peter Pan LIVE, Radio City Christmas Spectacular, Annie, and Les Miserables/Waiting for Godot!