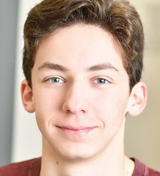 Andrew Barth Feldman (Dear Evan Hansen) spoke with BroadwayWorld on the Jimmy Awards red carpet! Watch the video HERE or below, plus check out photos of Andrew and Sam Primack (Dear Evan Hansen) on the red carpet HERE.
The original Broadway stars of Billy Elliot, David Alvarez, Kiril Kulish, and Trent Kowalik, spoke to The New York Times about what they've been up to in the ten years since their historic Tony Award win!
Grace DeAmicis (Harry Potter and the Cursed Child) and Devynn Pedell (Mary Poppins) have joined the lineup for "Switched" at 54 Below, presented by Growing Up Broadway!
Annabelle Wachtel (School of Rock) recorded a voiceover for Nickelodeon!
Jacob Morrell (Shadowlands) recently filmed a commercial! More info to come!
And here are pictures from the kids of Harry Potter and the Cursed Child and from last night's screening of Kinky Boots before it arrives in theaters on June 25th and 29th!