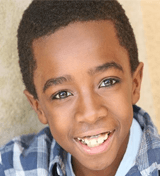 Paul Luke Bonenfant will be on as Billy in School of Rock on May 23rd and 24th!
Gaten Matarazzo (Les Miserables, Priscilla Queen of the Desert) and Caleb McLaughlin (The Lion King, The Painted Rocks at Revolver Creek) will be on Lip Sync Battle at 10pm this Thursday on Spike! Watch their pre-show interviews, as well as a sneak peek at Caleb's performance, below:
Take a look at pictures of Audrey Bennett playing Young Amelie in Amelie HERE, as well as video of the show's final curtain call HERE!
And here are pictures and videos from the kids of Amelie, Waitress, On Your Feet, School of Rock, A Bronx Tale, Anastasia, and The Lion King!