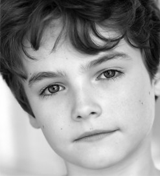 Los Angeles fans! Emma Howard (Violet, Matilda) appeared on KCAL 9 at 8:30am, and on CBS 2 tonight! Get more information:
Did you know that Christopher Convery (Kinky Boots) served on his school's student council in addition to his Broadway schedule? Here he is with his certificate:
And here are pictures and videos from the kids of On Your Feet, School of Rock, Miss Saigon, Frozen, Kinky Boots, and Anastasia!