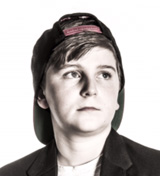 Happy Trails to Jersey Sullivan (School of Rock)! We can't wait to see what's next for you, Jersey!
Registration for access to Harry Potter and the Cursed Child tickets is open now! Register before October 5th on HarryPotterThePlay.com.
Mary Page Marlowe will play Second Stage next June! Get more details on 2ST.com.
School of Rock is auditioning kids for their Broadway and tour companies! Find out more:
Watch Cory Logan (School of Rock) jam out at Guitar Center!
And here are pictures and videos from the kids of Miss Saigon, A Bronx Tale, Frozen, School of Rock, Waitress, The Lion King, Anastasia, and Kinky Boots!