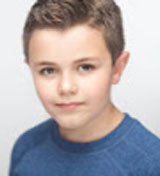 Happy Mother's Day to all those supporting and cheering on their kids as they navigate show business! We applaud you and the sacrifices you make to realize your children's theatrical dreams. Have a wonderful day!
Happy Trails to Sophia Kekllas and Michael Cascetta, who played their final performance in School of Rock today! We can't wait to see what's next for you, Sophia and Michael!
And here are pictures and videos from the kids of School of Rock, Harry Potter and the Cursed Child, A Bronx Tale, Anastasia, The Lion King, Gettin' The Band Back Together, and Waitress!