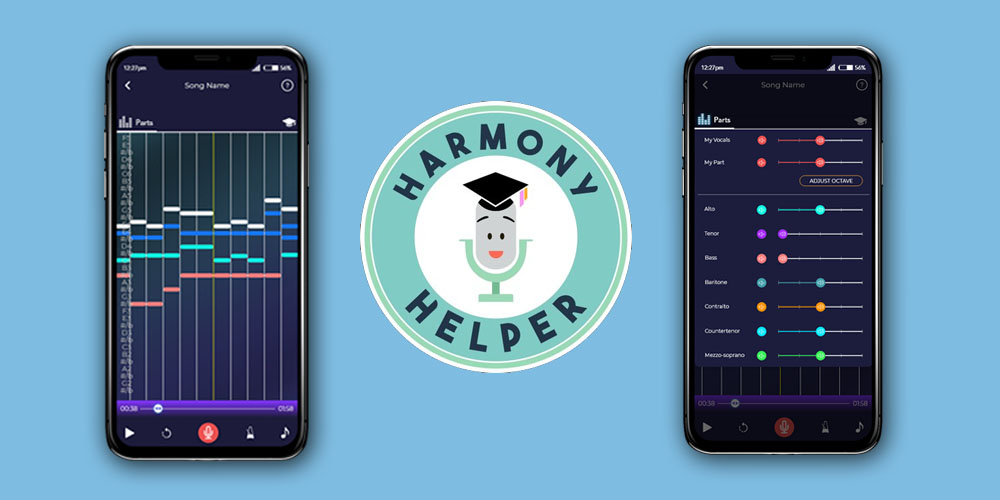 The entertainment industry has temporarily shut down in light of COVID-19, cancelling performances, productions, rehearsals, camps, and more. In spite of this, some productions have chosen to soldier on – virtually – and present their productions via video chat or YouTube. One app hopes to alleviate any stress during virtual rehearsals is Harmony Helper, an app designed to help singers learn vocal parts on-the-go. We spoke with Andrew Goren, founder and CEO of Harmony Helper, to learn more about the app's role during a time of social distancing.
How has this app's role changed since social distancing began?
Music is an important expression of creativity, artistry and humanity. It brings comfort and healing in times of stress and can help us to express feelings differently than we would simply with words. Our vision for Harmony Helper has remained the same during this time, and that is to empower singers with the tools, opportunities and confidence to deliver their best performance and to provide teachers and choral directors with a comprehensive learning tool that augments the important work they do to help their students and choir members. While most all performances and in-person rehearsals continue to be on hold, the app works as a "digital rehearsal room in your back pocket." It has continued to give singers, of any skill level, a place to focus beyond the stress of the pandemic, and allows them to practice today, for tomorrow. We're proud to give singers a tool to help them on their singing journey, even though this part of the journey is at home.
2) Any new features in the app you want to share?
Harmony Helper is continuing to build new and exciting features that are largely driven by the suggestions and needs of the singing community, which we welcome on our website. In an effort to do our part for those in the community who have been impacted by COVID-19, we teamed up with Alex Brightman, Rob McClure and Jelani Remy to raise money for the Actor's Fund with our campaign #Hear1Sing1. The campaign invited participants to sing the chorus of their favorite Broadway song and challenge followers to do the same. This campaign sparked lots of participation and helped us to raise donations to help relief efforts. We also launched the #15Dollarsfor15Days Campaign. For this initiative, we donated to relief organizations that help artists who have been financially impacted by the coronavirus.
3) How did the special partnership with the Roger Rees Awards come about?
A few years ago at BroadwayCon, we crossed paths with Camp Broadway, an organization that offers musical theater programs for kids of all experience levels, taught by Broadway professionals. When we connected, we learned that we shared a passion for theatre education and youth enrichment programs. They serve as the program administrator and showcase producer of the Roger Rees awards and included us in this year's event. We're delighted to have had the opportunity to participate in the Roger Rees awards along with influential and impactful organizations like Camp Broadway.
4) What has the feedback been like from this year's participants?
We have received overwhelmingly positive feedback from this year's participants. Several singers have told Christine Riley, the music director of the Roger Rees Awards, that Harmony Helper helped them prepare for the awards ceremony and that it has allowed them to truly master their part ahead of time. We're happy to know that Harmony Helper is truly making a difference in how singers of all levels rehearse and master their vocal parts.
5) How do you picture Harmony Helper's future in relation to social distancing guidelines considering a day where social distancing rules are lifted hasn't been set yet?
While the rest of the world has shifted to video calls during this crisis, it has not been as smooth as a transition for choir and theatre performers to practice with their peers remotely. With no set timeline to open theatres and as the required distancing of choirs becomes the norm, Harmony Helper will continue to help singers and performance groups deliver their best performance by equipping them with the tools necessary to tackle even the most complex songs. The app generates a custom vocal part to practice based on your answers to a few simple questions after using the sheet-music scanner. Our real-time feedback feature then tracks your pitch to help users see whether they are above, below, or on key. Users also can use our 5-step guided approach to learning — all from the app, on their own, at home.
To learn more about Harmony Helper, visit harmonyhelper.com.