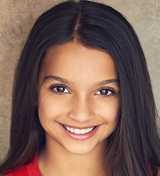 Jamilah Rosemond (Peace, Love and Cupcakes) took part in a virtual production of Bayard earlier tonight! Get more details HERE.
Also earlier tonight, a virtual reading of the new musical Pitch In took place, featuring Caroline Basu (School of Rock) and Carly Gold (The Ferryman)! Find out more HERE.
Jenna Ortega (New York Spectacular) has been cast in the new movie "Songbird"! Get more information on Deadline.com.
The cast album of SuperYou, including the Pandemic Edition of "Stronger Now," featuring Tessa Noelle Frascogna (Evita), Bella May Mordus (Make Believe, The Ferryman), and Mimi Ryder (Frozen, Matilda), is now available to stream!
Here's Delaney Quinn (Waitress) appearing in an ad for SAGO Mini School!
Here's a brand new episode of "The Early Night Show" with Joshua Turchin (Trevor, Forbidden Broadway, The Pill), featuring Noah Baird (A Christmas Story Live, Matilda), Madison Elizabeth Lagares (School of Rock, On Your Feet), Audrey Cymone, and Grant Steele!
And here are videos of Eliza Holland Madore (Matilda, Once, Peace, Love and Cupcakes) and Sway Bhatia (Really Rosie, Dream Street) singing during Rising Talent Magazine's recent virtual concert!