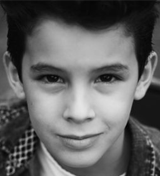 Congratulations to Duke Cutler (School of Rock), who is the new voice of Gumball in Cartoon Network's "The Amazing World of Gumball"! His first episode airs tonight!
Here's the trailer for What the Constitution Means to Me, coming soon to Amazon Prime!
Here's the full trailer for "Jingle Jangle: A Christmas Journey," starring Madalen Yarbrough Mills (School of Rock)!
Check out Disney Channel's music video for "Halloween House Party," featuring Elie Samouhi (A Christmas Story Live), Meg Donnelly (The Sound of Music Live), and Ramon Reed (The Lion King)!
Antonio J. Watson (Tina, This Ain't No Disco) has joined the lineup for the next "Voices To End Hunger" cabaret on October 30th, live on Facebook!
And here are pictures and videos from the kids of Trevor, and more!