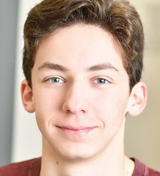 Andrew Barth Feldman (Dear Evan Hansen) and Owen Tabaka (Love Life) have been cast in the upcoming benefit concert of the Ratatouille Musical!
Jeremy Todd Shinder (A Christmas Story, Runaways) is launching a new podcast called "Jeremy: In The Zone," focusing on life as a child actor! Listen on Spotify.
Audrey Bennett (Frozen, Amelie), Emily Zimmerman (The Bedwetter), Jordan Cole (School of Rock), Sami Bray (The Bedwetter, 1984), and more will perform in a New Years Eve concert to benefit BC/EFA on December 31st at 7pm!
Watch past and present cast members of Dear Evan Hansen, including Andrew Barth Feldman and Sam Primack, sing "You Will Be Found"!
Listen to the newest episode of "Kyla's Korner," hosted by Kyla Carter (Number the Stars)!
And here are pictures from the kids of Meet Me In St. Louis!