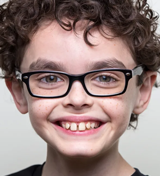 Jacob Michael Laval (The Rose Tattoo) has been cast in the upcoming movie "The Unbreakable Boy"! Get more details on Deadline.com.
Audrey Bennett (Frozen, Amelie) voices Young Marceline the Vampire Queen in the new "Adventure Time" special, "Adventure Time: Distant Lands," now streaming on HBO Max!
Check out the trailer of "We Can Be Heroes," featuring alum Andy Walken (A Christmas Story Live)!
Kyla Carter (Number the Stars) released a new episode of her podcast "Kyla's Korner" earlier today during "The Mark White Show"!
Zach Thomas (The Lion King) has released a new single called "Confused" with his brother! Listen HERE.
Watch the newest episode of "The Early Night Show" with Joshua Turchin (Trevor, Forbidden Broadway, The Pill), featuring Zoe Glick (The Bedwetter, Unknown Soldier, Frozen), Winter Donnelly (Frozen, Our Dear Dead Drug Lord), and Ava Nicole Frances!
Check out this video from the recent online concert of The Perfect Fit!
Finally, here's a throwback to the cast of Elf performing during the 2012 Macy's Thanksgiving Day Parade!