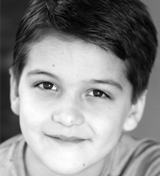 Elizabeth Crawford (Tuck Everlasting) and Hudson Loverro (A Bronx Tale, Assassins) will sing the songs of Sam Willmott as part of the New Writers at 54! series on August 10th at 54 Below! Get more details HERE.
The trailer for season 2 of "Stranger Things," with Gaten Matarazzo (Les Miserables, Priscilla Queen of the Desert), Caleb McLaughlin (The Lion King, The Painted Rocks at Revolver Creek), and Sadie Sink (The Audience, Annie), is out now! Watch below:
"Proud Mary," featuring Jahi Diallo Winston (The Lion King), comes out January 12th, 2018!
Milo Manheim (Generation Me) will star in Disney Channel's next original movie "Zombies"!
And here are pictures and videos from the kids of Peace, Love and Cupcakes, Waitress, On Your Feet, School of Rock, The Lion King, and Anastasia!