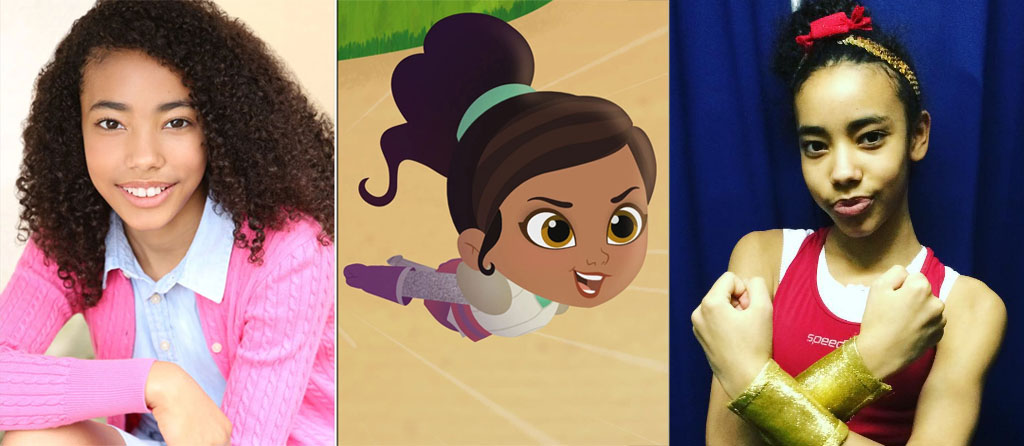 We continue with When I Grow Up, our interview series where we catch up entertainment pros with Broadway kid roots and talk about their upcoming film/TV/music projects! This month we talked to Akira Golz who recently finished playing Alice in Matilda, her Broadway debut. She lept from Broadway to Nick Jr. a month later to star as the titular character in "Nella the Princess Knight"! Akira plays 8 year old Nella, a princess who fights for justice with her fellow knight Sir Garrett and trusty unicorn Trinket. We talked with Akira about booking Matilda, playing Minecraft, and leading a groundbreaking Nick Jr. show!
How did your performing arts career begin?
My parents actually have videos of me singing from a very young age, so think I was born that way. LOL. But my career started when my gymnastics coach suggested acting to my mom because I'd always sing and dance when waiting in line to use the different equipment. After a lot of pushing from my coach, my mom sent my picture to two modeling agents and it began from there. So I started out as a print model at age 5 and from there did commercials, voiceovers, and musical theater. I began auditioning for musical theater at age 7 before ever being in a theater production. After auditioning for a year of Broadway shows I started doing regional and community theater, which helped me soooo much on my journey to Broadway.
What was it like finding out you booked Matilda?
Well I've been auditioning for Matilda for about 3 years. The music director at Matilda told me that I was one of the first group of girls to audition for the role of Matilda, I was 7. There was a period where I auditioned for both Matilda & Lavender roles. After that I auditioned for Lavender/ensemble kids, then I got Alice. Matilda has been a big part of my life so when I got into Matilda I was beyond happy!
Describe your Broadway debut.
I was very excited on my Broadway debut. I wasn't nervous at all. I'm not sure why but it felt like a rehearsal with an audience. I was worried more when I had my put-in.
Did you have a favorite song or scene to perform in Matilda?
My favorite song to perform was Revolting. Because the feeling of the dancing in that number made me feel empowered. I always looked forward to performing it.
What was your favorite thing to do backstage at Matilda?
My favorite thing to do backstage was to play Minecraft with the other kids and I loved making Video Stars. They are videos you make where you lip-sync to a song, like it's a music video.
What was the audition process for "Nella the Princess Knight" like?
My audition for Nella I could not make the audition in person due to Matilda rehearsals. So we ended up doing a self-tape recording the sides on my phone. Sometimes you do so many auditions you forget about them, but probably a month to maybe 2 months later I got callback. My callback was in person. One month later my manager called me with the news that I booked Nella. I couldn't believe it!
Did you have a favorite Nick Jr. show when you were younger?
Yes! My favorite Nick Jr. show was definitely Dora. I watched that every day before I went to school.
What's your schooling situation like for "Nella" as compared to Matilda?
Since I record Nella once to twice a week I'm able to go to back to my public school. When I was in Matilda I had to be home schooled, because we had to go in 2 hours early for safeties. So that schedule didn't work to well for regular school, especially my middle school.
Take us through a typical day in the recording studio.
A typical day is I first warm up on the car ride into the city. When I get to the studio I'll have some tea, it helps warm up my throat. I go into the booth with the voice director and engineer. Sometimes the director of the show Skypes in from Europe and the musical director from California. The voice director talks with me about what we'll be recording that day. It could be episodes, songs, promos for the show, pickups (which are changes in the lines), or a video game. Then I start recording. I do each line 3 times with different reactions so they have something to choose from.
What's your advice for kids who want to pursue a career in acting?
My advice is just to never give up. I kept going to auditions even when my mom didn't want to go. Another tip is to have a good attitude when you go in. Most of the time people want a kid with a good attitude so they're easy to work with. Also, don't be scared to ask questions.
SPEED ROUND
Favorite thing to do in NYC: Either go to Central Park or to any museum.
Favorite food to eat in NYC: Chipotle. Because there are none where I live.
Broadway dream role: Elphaba in Wicked or Angelica in Hamilton. I can't decide.
If you could swap roles with anyone on Broadway (male or female) right now for one night only, who would it be?: Either one of the roles I listed above.
If someone wrote a musical about your life, what would it be called and what would be the name of its show-stopping number?: It would be called, Holo There!: The story of a 12 year old wannabe hipster. The best number would be called: Hunty (like honey but hunty. or hun-ty if that makes sense.)
Thank you so much Akira and mom Wyonna for this really fun interview! You can catch "Nella the Princess Knight" weekday mornings at 10am on Nick Jr.! Check out a promo below: