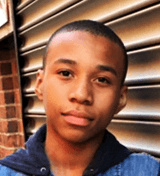 William Chris Sumpter (Matilda) has been cast in the upcoming Netflix series "Midnight Club"! Get more details on TheWrap.com.
The Met Opera's production of Porgy & Bess, featuring Emerson Davis (Once On This Island), streamed for free earlier tonight! Get more details on Playbill.com.
Listen to "Residue," a new single by Broadway alum Rozie Baker (Bonnie and Clyde, Shrek, Mary Poppins), now available on Spotify!
You can also listen to the newest episode of "Take 5: Where Broadway Makes the List," the podcast co-hosted by Serena Parrish (Not Even The Good Things) – also now streaming on Spotify!
Eric A. Walker Jr. (Kinky Boots) has booked an episodic!
Jolly Swag (Medea) appears in this ad campaign for Teen Nick!
Here's the newest episode of "Kyla's Korner," hosted by Kyla Carter (Number the Stars)!
Check out these pictures and videos from the kids of Caroline, Or Change and Harry Potter and the Cursed Child!
Finally, today is the beginning of Black History Month! Take a look at these throwback photos of child actors in The Color Purple, Once On This Island, and more!