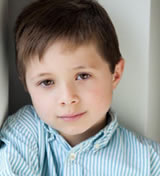 Happy trails to Marcus D'Angelo, who departed Matilda last night! We can't wait to see what comes next for you, Marcus!
Athan Sporek's debut performance as Gavroche in Les Miserables, which had been scheduled for this Wednesday, March 4, 2015, has been rescheduled! Check out the Facebook post below for more information:
The Nether
, featuring
Sophia Anne Caruso
, has extended its Off-Broadway run! The show will now perform through March 22, 2015. Get more information on
Broadway.com
!
Check out photo coverage from the cast album recording session for Liberty, featuring Abigail Shapiro and Andrew DiTusa, on BroadwayWorld.com!
K'Lynn Jackman (The Lion King) has posted lots of new pictures from Broadway Serves and the stage door of The Lion King! Check them out on her Facebook fan page!
And here are videos and pictures from the kids of The Lion King, Liberty, and Matilda!

https://instagram.com/p/ztYnzNy9Ms/