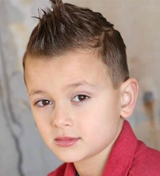 Congrats to Jonah Mussolino (A Bronx Tale), who will join the national tour of Les Miserables next month!
Rachel Arianna (Number the Stars) is in the running for Best Music Video, Rising Star, and Fan Favorite in the LA Music Critic Awards, and she needs your votes to win Fan Favorite! Vote HERE.
Jacob Morrell (Shadowlands) has booked a documentary! Get more details:
The newest video from Broadway Kids Jam is here! Find out more on BroadwayWorld.com.
And here are pictures and videos from the kids of Frozen, Waitress, The Pill, Anastasia, and School of Rock, as well as lots of pictures from BroadwayCon!