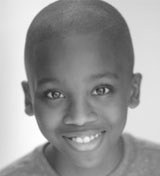 As of today, "The Dead Don't Die," featuring Taliyah Whitaker (brownsville song) and Jahi Diallo Winston (The Lion King), is now in theaters!
Tonight, catch Ramon Reed (The Lion King) on Disney Channel when "Just Roll With It" premieres at 9:45pm!
Also tonight, "The Early Night Show" starring Joshua Turchin (The Pill) returns to The Green Room 42! Find out more HERE.
(YOUNG) will return to The Green Room 42 at the end of this month for a special Pride-themed performance! Get tickets HERE.
Playwrights Horizons and WP Theater are casting two child actresses for their 2019-2020 productions! Get information on the audition on Playbill.com. Also coming up is an EPA for the pre-Broadway tryout of Mrs. Doubtfire! Find out more about that call on Backstage.com, and get advice for attending both EPAs as a non-Equity performer on ActorAesthetic.com!
And here are pictures from the kids of What the Constitution Means to Me and The Secret Life of Bees!