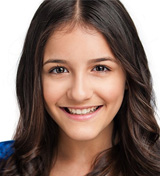 Rising Talent Magazine will present another benefit concert live on their Instagram tomorrow to raise money for The Actors Fund, with performers Anna Rae Haller (Frozen), Winter Donnelly (Frozen, Our Dear Dead Drug Lord), and Amaris Sanchez (On Your Feet)! Get more information HERE.
The newest episode of the "Fade In" podcast, hosted by Jim Kaplan (School of Rock, The King and I), Will Coombs (The Ferryman, Harry Potter and the Cursed Child, A Bronx Tale), and Molly Richardson (Matilda tour), is now on Spotify! Listen HERE.
BroadwayWorld chatted with Joshua Turchin (Trevor, Forbidden Broadway, The Pill) about his new musical The Perfect Fit! Read the interview HERE.