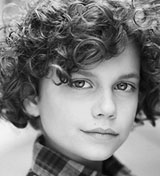 Tonight, tune in for the season 22 premiere of "Law & Order: SVU" with alum Ryan Buggle (Radio City Christmas Spectacular, The Inheritance)!
Off-Broadway alum Milo Manheim (Generation Me) will take part in "Disney Holiday Magic Quest" at Walt Disney World, airing on December 4th at 8pm on Disney Channel! Get more info about the special HERE.
"We Can Be Heroes," the new Netflix film with alum Andy Walken (A Christmas Story Live) will arrive on the streaming platform on January 1st! Get more info about the film HERE.
Austyn Johnson (Dream Street, Matilda) and Kylie Kuioka (Panama Hattie) have been cast in Meet Me In St Louis, presented virtually by the Off-Broadway theater Irish Repertory Theater this holiday season! Read the full announcement HERE.
Alum Isabela Merced (Evita) has a brand new holiday single out called "Caliente Navidad"! Listen to it HERE. She's also the cover photo of Spotify's Latin Christmas playlist. You can listen to the playlist HERE!
Alum Gabriella Pizzolo (Matilda, Fun Home) stopped by the "Take A Bow" podcast this week! Listen to the episode HERE.
Watch Walter Russell III's (The Lion King) latest episode of the "PAW-cast," with Kalandra Rhodes (The Lion King tour), below!
And watch a throwback to when On Your Feet performed during the Macy's Thanksgiving Day Parade in 2015 below!