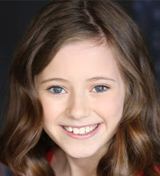 Tonight, Broadway alum Madison Elizabeth Lagares (On Your Feet, School of Rock) will take part in "She Will Rock You" at 54 Below! Get more details HERE.
Audrey Bennett (Frozen, Amelie) will appear in the upcoming Amazon series "Hunters"! Here she is in the commercial for the show that aired during the Super Bowl:
Jamilah Rosemond (Peace, Love and Cupcakes) has been cast in Henry Box Brown: A Musical Journey, playing in NYC and Savannah, GA!
Max William Bartos (Sing Street) will perform at 54 Below on May 4th as part of 54/54/54! Get tickets HERE.
YBAN founder Lindsay let it go at Frozen last weekend, and she says it's still magical even after seeing it multiple times! Great job, everyone!
Lindsay also had a great time at "Switched" at 54 Below, meeting many amazing current and former Broadway kids!
And here are pictures and videos from the kids of Beetlejuice and Tina!