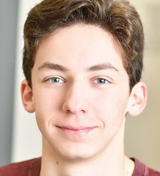 Congratulations to Owen Tabaka (Love Life), who has been cast in New York Theatre Workshop's Off-Broadway production of Brother, Brother, streaming online later this month! Get more information at NYTW.org.
Drake Bradshaw has been cast in The New Group's production of Waiting for Godot, streaming online next month!
Andrew Barth Feldman (Dear Evan Hansen) and Joshua Turchin (Trevor, Forbidden Broadway, The Pill) will speak at the virtual edition of BroadwayCon this weekend! Andrew will take part in a panel called "Stepping In: Broadway Replacements" (more info here), and Joshua will participate in a panel about "Arts Education on Zoom" (more info here).
Joshua Turchin has also booked a voiceover role on "Cocomelon"! More details to come.
Rosdely Ciprian (What the Constitution Means) will speak during the Earth Day Initiative's virtual event later this month! RSVP here.
"Heal the Earth," the new single by Sisters G – which includes Katie Grober (Waitress) – will be released on vinyl! Pre-order your copy HERE.
Ava Della Pietra (School of Rock) has released a new single called "Home" – listen now!
Roman Engel (Radio City Christmas Spectacular) and Samuel Li Weintraub (Miss Saigon) appeared in a sketch during this weekend's "Saturday Night Live" with Carey Mulligan! Watch below:
In case you missed it, you can watch Madeleine Pace (Once, The Hard Problem) perform with Broadway Youth Ensemble during their most recent concert!
And check out these videos from some recent performances, including the live return of "The Early Night Show" and virtual concerts from Rising Talent Magazine and The Rockit Live Foundation!