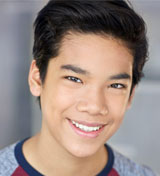 James Ignacio (The King and I, Peace, Love and Cupcakes, Camp Rolling Hills), Mateo Lizcano (Radio City Christmas Spectacular), and Laurissa "Lala" Romain (South Pacific) have been cast in a virtual production of Sticks & Stones to benefit Lady Gaga's Born This Way Foundation! More details coming soon.
Here's your first look at Netflix's "Grand Army," with Jaden Jordan (Kinky Boots, The Lion King)!
Bookings
Ryan Foust (Charlie and the Chocolate Factory, Mary Page Marlowe) is now appearing in a commercial for Invisalign!
Gabriel Amoroso (Harry Potter and the Cursed Child, Medea) has booked a voiceover gig! More details to come.
Delaney Quinn (Waitress) appears in this video for iHeartRadio and L'il Critters Gummies!
New Episodes
"Young Sheldon" star Iain Armitage is this week's guest on the "Take A Bow" podcast, hosted by Sydney Lucas (Fun Home) and Eli Tokash (Finding Neverland, Pippin)! Listen now on the Broadway Podcast Network.
The newest episode of the "Little Me" podcast features two special guests, siblings Madilyn Jaz Morrow (Matilda) and Zell Steele Morrow (Harry Potter and the Cursed Child, Fun Home, Mary Page Marlowe, Really Rosie)! Listen now on the Broadway Podcast Network.
Walter Russell III (The Lion King) shared another episode of his "PAW-cast" tonight, with guest Jesus Del Orden (The Lion King, Kinky Boots)!
Performances
Isabella Iannelli (The Rose Tattoo) performed "Part Of Your World" as part of Unicorn Jazz's newest episode of "That Thing I Do"!
The original cast of School of Rock covered a Fleetwood Mac hit! Watch on BroadwayWorld.com or below.
Check out this virtually distant rendition of "The Telephone Hour" from Bye Bye Birdie, featuring Devin Trey Campbell (Kinky Boots)!
And check out these pictures and videos from the kids of The Lion King, The Bedwetter, Trevor, and Frozen!