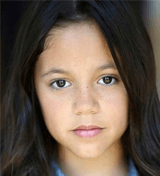 Jenna Ortega (New York Spectacular) has joined the cast of the ABC Family pilot "Man Of the House," after the three-season run of her Disney Channel show "Stuck In the Middle"! Get more details on Deadline.com.
Mikee Castillo (The Lion King) appeared on "Alex, Inc." tonight at 8:30 pm on ABC!
The release date for "Overboard," with Hannah Nordberg (Little Miss Sunshine), has been pushed back to May 4th!
You can now get "The Greatest Showman," with lots of our alumni, on Blu-Ray/DVD!
The Koala Bears (School of Rock alumni) are performing at Bar Nine tonight to raise money for BC/EFA!
And here are pictures and videos from the kids of Waitress, The Lion King, A Bronx Tale, and School of Rock!