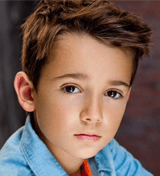 Congratulations to Colin Critchley (Waiting for Godot, Kinky Boots, New York Spring Spectacular), who appeared on this week's episode of "Manifest"! Stream now on NBC.com or the NBC app.
"Team Kaylie," featuring Elie Samouhi (A Christmas Story Live), has been greenlit by Netflix! Get more details on Deadline.com.
Here's a clip of Kenneth Aikens (The Lion King) appearing on "Discovery #MindBlown"!
Check out the official trailer for "Pet Sematary," with Jete Laurence (Number the Stars)!
Rosdely Ciprian performed an excerpt from What the Constitution Means to Me and chatted about the show with Heidi Schreck and Gloria Steinem at MAKERS Conference! Watch below:
Congrats to Ashley Brooke (Doctor Zhivago, Dream Street), whose film "Troop Zero" premiered at Sundance!
And here are pictures from the kids of School of Rock and Frozen!