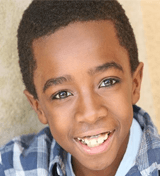 Good luck to our alumni and their projects nominated for SAG Awards tonight: "Stranger Things," which features Caleb McLaughlin (The Painted Rocks at Revolver Creek, The Lion King), Sadie Sink (The Audience, Annie), and Gaten Matarazzo (Les Miserables, Priscilla Queen of the Desert), and "Roman J. Israel, Esq." and "This Is Us," which both feature Niles Fitch (Our Lady of Kibeho, The Lion King)!
Nico Bustamante (A Room of My Own) is now in an Ikea commercial! Check out some photos:
And here are pictures and videos from the kids of The Pill, School of Rock, Anastasia, Waitress, and Broadway Kids Jam!