Congratulations to Lucille Lortel Award nominee Sophia Anne Caruso (The Nether, The Sound of Music LIVE, Ruthless!), who has been cast in Lazarus at New York Theatre Workshop! Also in the cast is Brynn Williams, who grew up on Broadway in 13, Bye Bye Birdie, How the Grinch Stole Christmas!, In My Life, and Chitty Chitty Bang Bang, and became the youngest Gypsy Robe recipient ever at age 12 for In My Life! Get more information on BroadwayWorld.com.
We have lots more performance videos from Lyrics for Life! This first one is of Raquel Wallace (Dream Street) dancing to "Loca."
We have a new, high-quality video of Mavis Simpson-Ernst (Evita, A Little Princess) and Elana Rae Cantor singing "Breakaway" by Kelly Clarkson!
Check out Shereen Pimentel (The Lion King) singing "Lean On Me" with backup singers including Aimee Laurence (A Little Princess), Jete Laurence (Number the Stars), Meg Donnelly (The Sound of Music LIVE), Ireland Horan (A Little Princess), Anna Kate Cibrian (A Little Princess), Paige Brady (Matilda, New York Spring Spectacular), Rachel Arianna (Number the Stars), and YBAN's Audrey and Emily Lang!
Here is Austyn Johnson (Dream Street) performing her dance, "North"!
Check out rehearsal pictures from First Daughter Suite, featuring Carly Tamer, on TheaterMania.com!
Fabi Aguirre's last performance in Les Miserables will be on October 4th, and then she will move on to On Your Feet! See her in Les Miz before then!
Jon Viktor Corpuz will take over The King and I's Instagram account tomorrow! Get more information in the picture below, and make sure to follow the show's Instagram account HERE!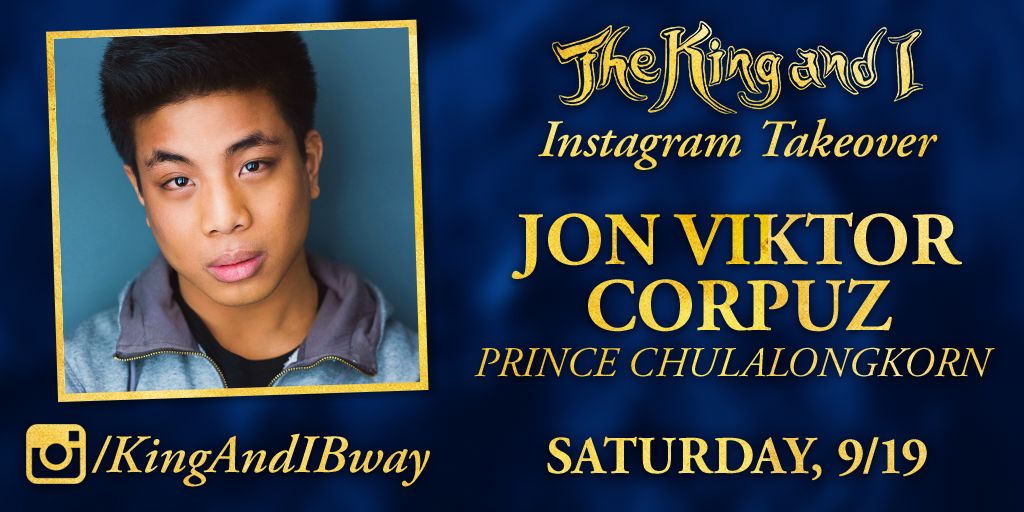 And here are pictures and videos from the kids of The Gray Man, Finding Neverland, The Lion King, Fun Home, Les Miserables, Kinky Boots!